Welcome to Ely Gift Hampers
Call Us on 01353 664052
Afternoon Tea Inspired Picnics
Afternoon Tea for 2 -150
Picnics for Days Out
Event Catering
Hire Wicker Hampers
Wedding Picnic Catering
Gift Hampers for all Events and Occasions
Local, Handmade and Artisan Suppliers
Custom Hampers
Visit our Hamper Shop
Gift Boxes, Baskets and Hampers
Corporate Hampers
Ely Gift Hampers is a hamper company which creates gifts, picnics, afternoon teas and buffets for all occasions and events. Our hampers are quintessential and filled to the brim with homemade food and drink sourced from small independent family run business's just like us! We specialise in afternoon tea inspired picnics, and hire sharing or individual wicker hampers for picnic weddings and events.
Shop Online or Arrange to Visit Us at Hamper HQ
Personal Hamper Service from Order to Delivery
Meet Our Best Sellers...
The Shop Local Hamper Box £55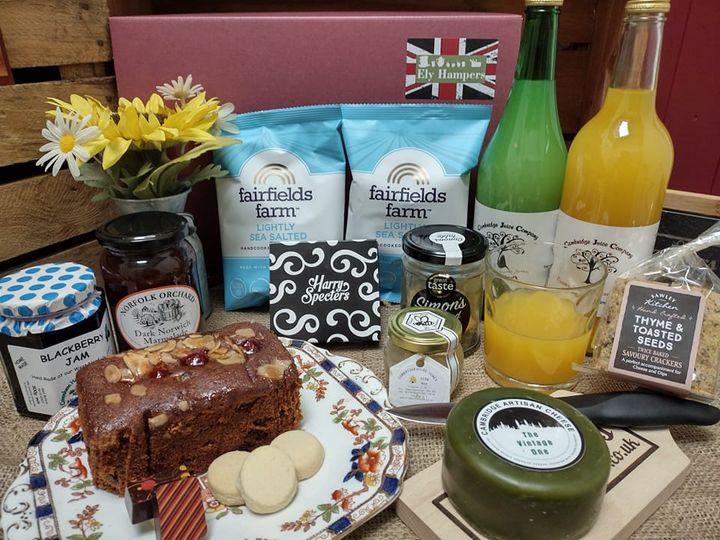 Cambridge Juice 75cl Apple

Cambridge Juice 75cl Orange and Clementine

Cambridge 40g Handcooked Crisps X2

Cambridge Artisan Cheddar Truckle

Ely Luxury Chocolate Box of 4

Ely Handmade Jam

Local Handmade Marmalade

Ely Local Honey Pot

Local Handmade Fruit Cake

Norfolk Shortbread

Handmade Crackers for Cheese
Happy Birthday Gift Box £12.95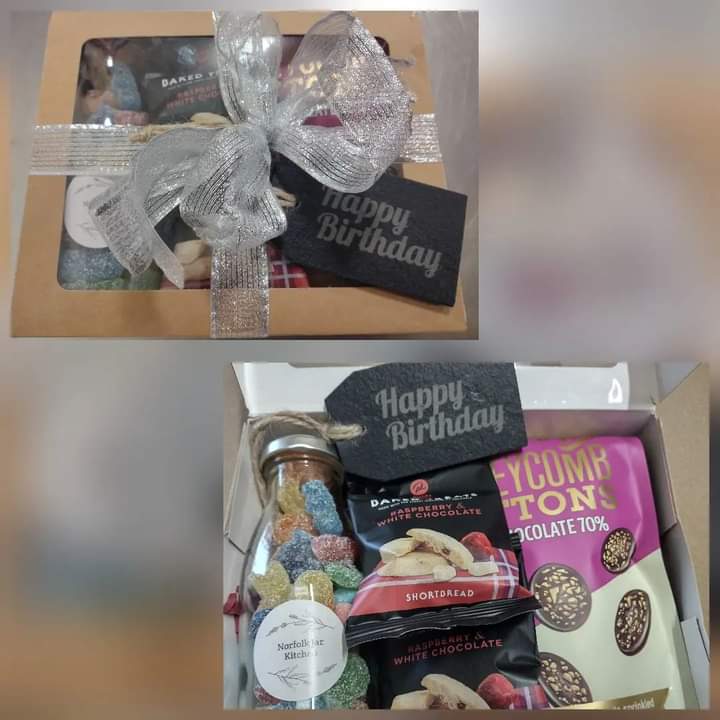 Filled with
Norfolk Jar Sweets
Dark Chocolate Honeycomb Buttons
2 X White Chocolate and Raspberry Shortbread Biscuits
Happy Birthday Slate Gift Keepsake which can be personalised
Wrapped in ribbon
The Great Picnic Day Out Picnic Basket £125 (over 18's only)
Wicker Hamper Filled with
Prosecco 750ml
English Charcuterie Sharing Platter
Chicken and Brandy Pate
Handmade Piccalilli
Cambridge Artisan Cheddar Truckle
Butlers Cheese Board
Pork Pie
2 x Sausage Rolls
2 x Scotch Eggs
Crackers for Cheese
Paz Honeyed Pecan Nuts
2 x Handcooked Crisps
Harry Spector Handmade Chocolate Box
4 x Handmade Brownies with Berries