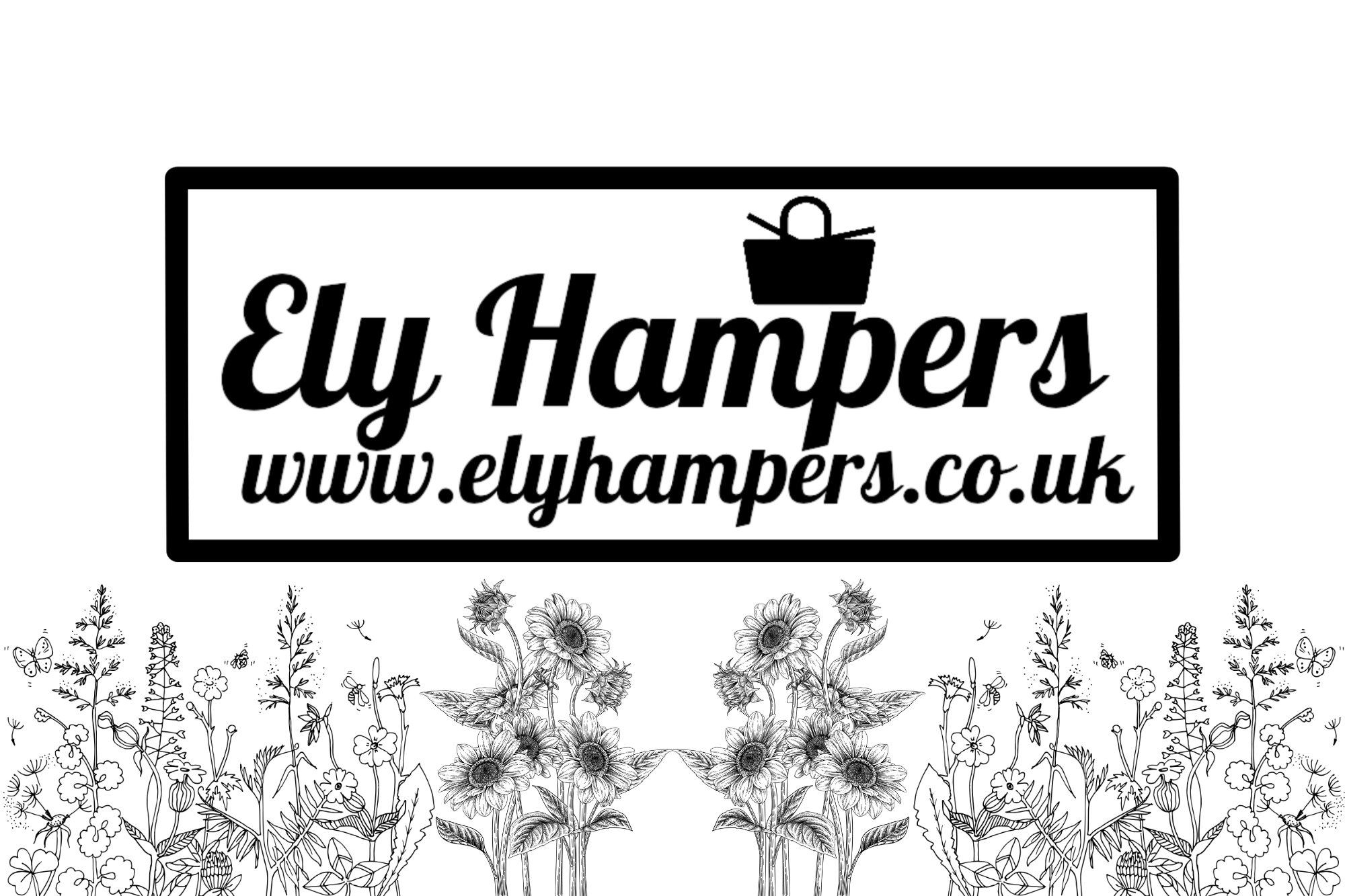 Luxury Wicker Food and Drink Hampers
Shop Online or Arrange to Visit Us at Hamper HQ
Clicking on the Enquire Now Button will send an enquiry to our team, you can customise the hamper and add extras at this point as well. We will then confirm with any delivery costs due.
🌟5* Food Hygiene Rated
🌟Fully Licensed
🌟Ribbons and Personalised Messages
🌟Local Products
🌟 Supporting Local and Small Business
🌟Customisable Hamper Choices
🌟Free Hand Delivery Service in City of Ely
🌟Free Collection from CB6 1SA
🌟Hand Delivering locally...
Ask a member of the the team about delivery options and costs!
The Little City Hamper £55.95
Wicker Basket Filled with
Local Homemade Fruit Cake
Norfolk Shortbread
Homemade Clotted Cream fudge
Consciousness Four Nut Chocolate Bar
Norfolk Tea Bags x 40
Local Ely Honey
The Cream Tea Hamper £72.95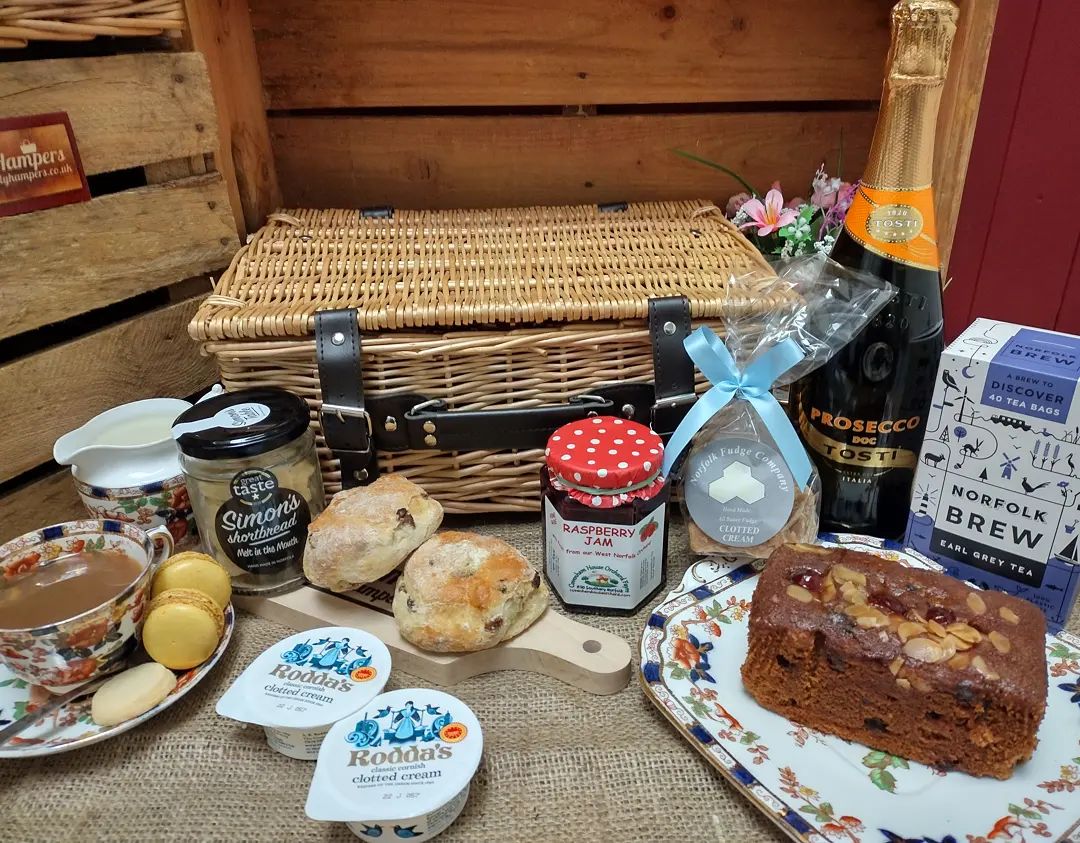 Wicker Hamper filled with
Prosecco 750ml
Fruit Scones x 2
Ely Handmade Jam
Clotted Cream x 2
Earl Grey Norfolk Tea x 40 Bags
Norfolk Handmade Shortbread
Local handmade Fruit Cake
2 X Macarons
Handmade Clotted Cream Fudge
The Kings and Queens Hamper £82.95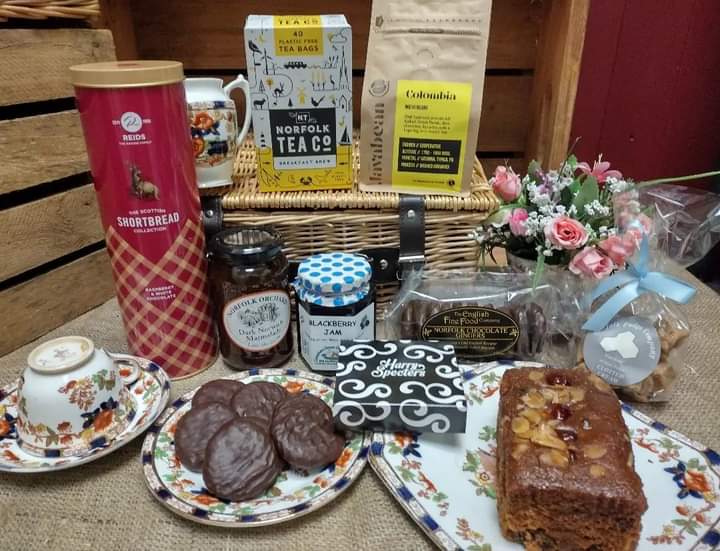 Wicker Hamper Filled With
Local Homemade Fruit Cake
Harry Spector Handmade Chocolate Box of 4
Homemade Dark Chocolate Ginger Biscuits
Homemade Clotted Cream Fudge
Luxury Scottish White Chocolate and Raspberry Shortbread Tin
Norfolk Tea Bags x 40
Columbian JavaBean Norfolk Ground Coffee
Homemade Ely Jam
Homemade Local Orange Marmalade
The Cathedral Hamper £99.95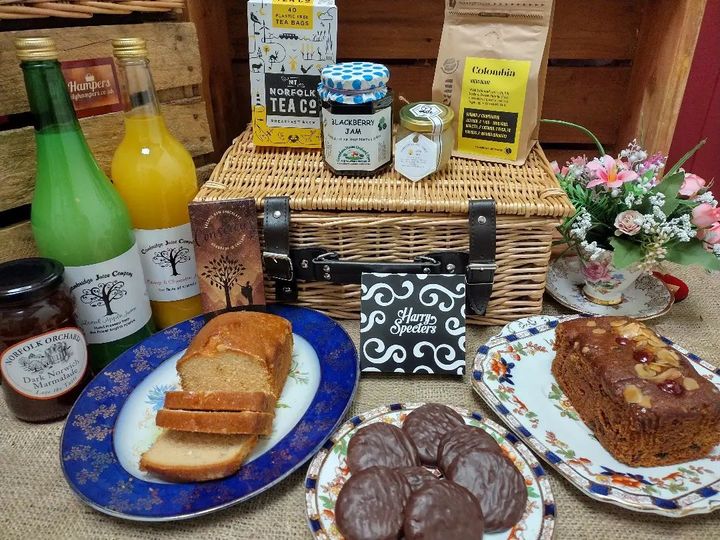 Wicker Hamper Filled With
Homemade Dark Chocolate Ginger Biscuits
Homemade Local Loaf Fruit Cake
Conscious Chocolate Four Nut Bar
Norfolk Tea Bags x 40
Columbian JavaBean Norfolk Ground Coffee
Homemade Local Lemon Loaf Cake
Local Ely Handmade Jam
Local Honey Pot
Handmade Harry Spector Luxury Chocolate Box of 4
Local Handmade Marmalade
Cambridge Apple Juice 750ml
Cambridge Clementine and Orange Juice 750ml
The Lancaster Hamper £112.95
Wicker Hamper Filled With
Cambridge Merchants Red Wine 750ml
Prosecco 750ml
Cambridge Cheddar Truckle
Artisan Crackers for Cheese
Homemade Clotted Cream Fudge
Homemade Local Fruit Loaf Cake
Scottish Shortbread Chocolate Chip Tin
Harry Spector Handmade Chocolate Box of 4
Homemade Dark Chocolate Ginger Biscuits
The Great Picnic Day Out Picnic Basket £125 (over 18's only)
Wicker Hamper Filled with
Prosecco 750ml
English Charcuterie Sharing Platter
Chicken and Brandy Pate
Handmade Piccalilli
Cambridge Artisan Cheddar Truckle
Butlers Cheese Board
Pork Pie
2 x Sausage Rolls
2 x Scotch Eggs
Crackers for Cheese
Paz Honeyed Pecan Nuts
2 x Handcooked Crisps
Harry Spector Handmade Chocolate Box
4 x Handmade Brownies with Berries
The Etheldreda Hamper £169.95
Wicker Hamper Filled With
Homemade Local Fruit Loaf Cake
Homemade Dark Chocolate Ginger Biscuits
Norfolk Shortbread
Homemade Biscuits
Norfolk Tea Bags x 40
Columbian JavaBean Norfolk Ground Coffee
Norfolk Earl Grey Tea Bags x 40 Bags
Luxury Raspberry and White Chocolate Shortbread Tin
Local Handmade Marmalade
Ely Handmade Jam
Artisan Chutney
Cambridge Cheddar Truckle
Butler's British Stilton
Handmade Crackers for Cheese
Cambridge Merchants House Rioja Red Wine 750ml
Cambridge Merchants House Champagne 750ml
Cambridge Apple Juice 750ml
Cambridge Orange Juice 750ml
The Porters Lodge Hamper £210.95
Wicker Hamper Filled With
Cambridge Merchants House Champagne 750ml
Cambridge Merchants House Red Wine 750ml
Scones x 4
Ely Handmade Jam
Clotted Cream
Milk Chocolate Honeycomb Buttons
Dark Chocolate Honeycomb Buttons
Honeycomb Chocolate Dippers
Cambridge Merchants Champagne
Luxury Milk Hot Chocolate
Handmade Pate
Cambridge Cheddar Truckle
Blacksticks Lincolnshire Blue
Suffolk Charcuterie Platter
Luxury Scottish Raspberry and White Chocolate Shortbread Tin
Cambridge Orange and Clementine Juice 750ml
Cambridge Apple Juice 750ml
Cambridge Merchants House Red 750ml
Artisan Chutney
Local Honey Pot
Local Handmade Marmalade
Dark Chocolate Ginger Biscuits
Toasted Crackers for Cheese
Harry Spector Handmade Luxury Chocolate Box
Handmade Clotted Cream Fudge
Extras
Clicking on an enquire now button under a hamper will allow you to customise the hamper to suit
Contact Us to Enquire About Bespoke Hampers